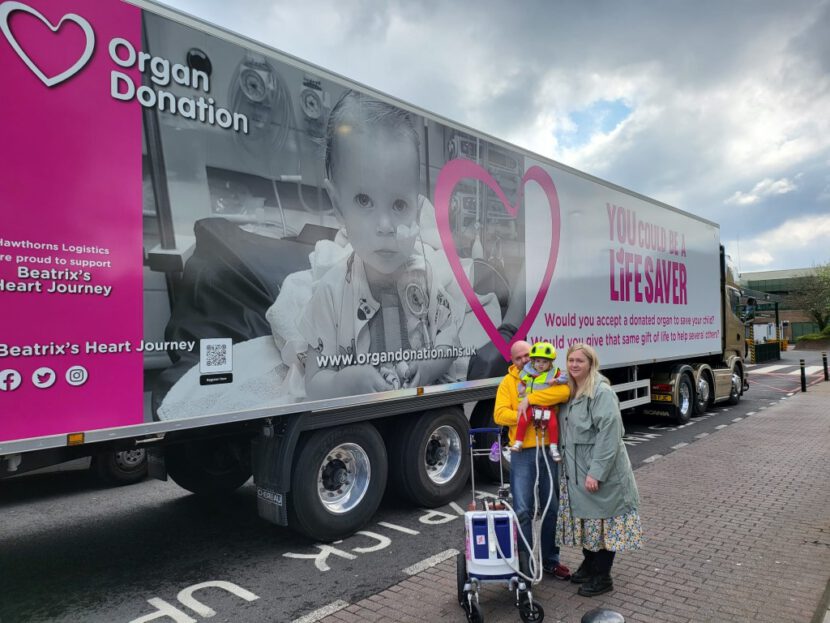 Beatrix Archbold is only two years old and lives in the Freeman Hospital, just as she has done for a year. She is attached to tubes which act as her ventricles. In the meantime, a picture of her face has been emblazoned on a 44ft-long lorry trailer. The photo has a message which says, "Would you accept a donated organ to save your child? Would you give that same gift of life to help several others?"
The trailer will be driven around the North East this Sunday. It will lead a convoy of bikers from the Washington and Wildfowl Wetlands Trust to the Freeman Hospital. The billboard will also stay on the trailer for five years.
Washington firm Hawthorns Logistics has taken up Beatrix's cause. Director Chris Kilsby said, "Her story has hit home. Beatrix's family is absolutely wonderful and it is horrendous what they are going though."
Hawthorns Logistics was founded in 2009 by Chris and his wife Alison. It transports food, toilet rolls and water around the country and has 50 staff.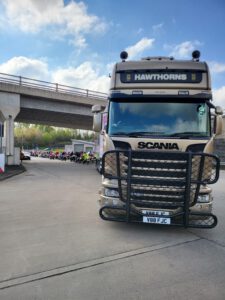 Sunday's bike ride was organised by North East Bikers Against Bullies and Northumbria Blood Bikes. Kirsty Lawrence, a Northumbria Blood Bikes trustee, said, "One of our bikes will be behind the lorry on Sunday, and one of our couriers is the back marker. I met Beatrix in hospital last Christmas. She was so excited because she loves bikes. We have taken her on as an honorary member."
North East Bikers Against Bullies founder Grant Robson said, "We are expecting just under 200 bikes on the day and the furthest will be coming from Hornsea. It is what bikers do. We have lost many riders over the years and a lot of them have been donors."
Beatrix had a cardiac arrest a year ago and was saved by surgeons at the Freeman who performed open heart surgery. Her parents are dad Terry, and mum Cheryl who comes from Roker. Terry said, "Hawthorns Logistics blew us away. They reached out to offer support in setting seeds of thought around organ donation. To do so in such a bold way, which will reach many thousands, is incredible and will no doubt trigger conversations that genuinely could go on to save lives. Although it is Bea's picture up there, the message is one for everybody, children and adults. It is a message of support for all those waiting now and in the future. It is a question for everyone… what would you do?"
Terry and Cheryl urged Wearside people to talk more about donating a child's organs. It is vital the discussion happens now because it is too upsetting for a parent to consider when they have just lost a child, they say. The couple know only too well what losing a child is like. Their daughter Isabel was stillborn five years ago. The couple agreed her heart could be donated for medical research.
For more on organ donation, visit https://www.organdonation.nhs.uk/.